mySunshine

Series:myViolet
Pot Size:4-inch small standard
Bloom Type:Double, lightly frilled
Bloom Color:Pale Yellow, green hue when opening.
Leaf Type:Plain, ovate, hairy
Leaf Color:Medium green, variable light strawberry reverse
Year Introduced:2014
Year Revised:2014
AVSA Registration Number:Pending
Patent Number:Pending
Variety Number:771
Trademark:Optimara
Notes:
mySunshine is not an intentionally developed yellow. It was, ironically, a sport of Yellowstone and presented as it was found.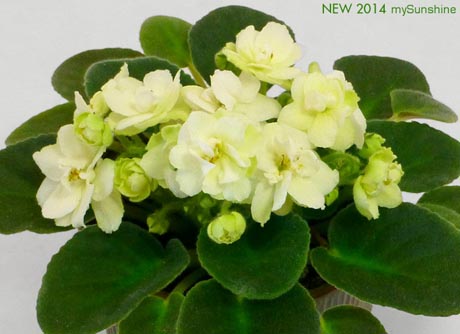 Consider this version 1.0 - we plan to improve these colors and bloom longevity.


The other spontaneous mutations of this African Violet are all different colors. Get the whole set:
Yellowstone (blue/white), Trinidad II (lilac/purple),
myDelight (pink) and mySunshine (yellow)