mySensation

Series:myViolet
Pot Size:4-inch medium standard
Bloom Type:Single, pansy, frilled
Bloom Color:Green with star-shaped white center
Leaf Type:Rounded, glossy/shiny, lightly serrated, slightly wavy
Leaf Color:Medium green
Year Introduced:2014
AVSA Registration Number:Pending
Patent Number:Pending
Variety Number:777
Trademark:Optimara
Hybridized By:Martin Holtkamp
Notes:
This is the latest cultivar from Optimara lead hybridizer since 2007, Martin Holtkamp. His myViolet series has been a big hit internationally. Expect some exciting surprises in the future from Martin!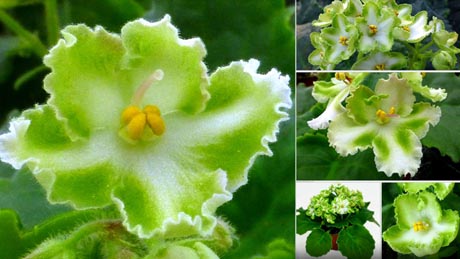 Quantities are limited while stock is propagated for retail distribution. Currently Available for Leaf Purchase Only.
mySensation was first shown to the public at Facebook.com/optimara last year. It was an instant hit, with thousands of likes and shares. Optimara decided to release for 2014, though it will take time to hit stores.