Basic Guide To African Violets

We've received a few requests for information on violet parts, terms and types, so we created this short reference booklet. Perfect for anyone new to violets and handy for those who've grown for years.
An Introductory Guide to the Wild World of African Violets.
Includes - violet parts, flower types, leaf types, care tips & violet history.

Flip-book version (read online):
http://myviolet.com/violet_guide

PDF version (read online or print):
http://myviolet.com/violet_guide/violet_guide.pdf

If you haven't done it yet, sign up on myViolet.com!
Get notifications when fresh shipments arrive in your area (includes store name, ship date & violet type), use our Doctor Optimara violet care tool, create profiles for your violets, and now you can add your own violet photos to the monthly violet gallery.

Here's a helpful one-page guide to
ROOTING VIOLETS BY LEAF as a PDF and PNG image.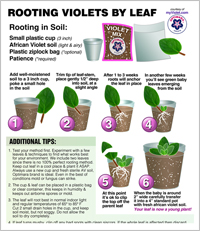 • myViolet FRESH VIOLET ALERTS